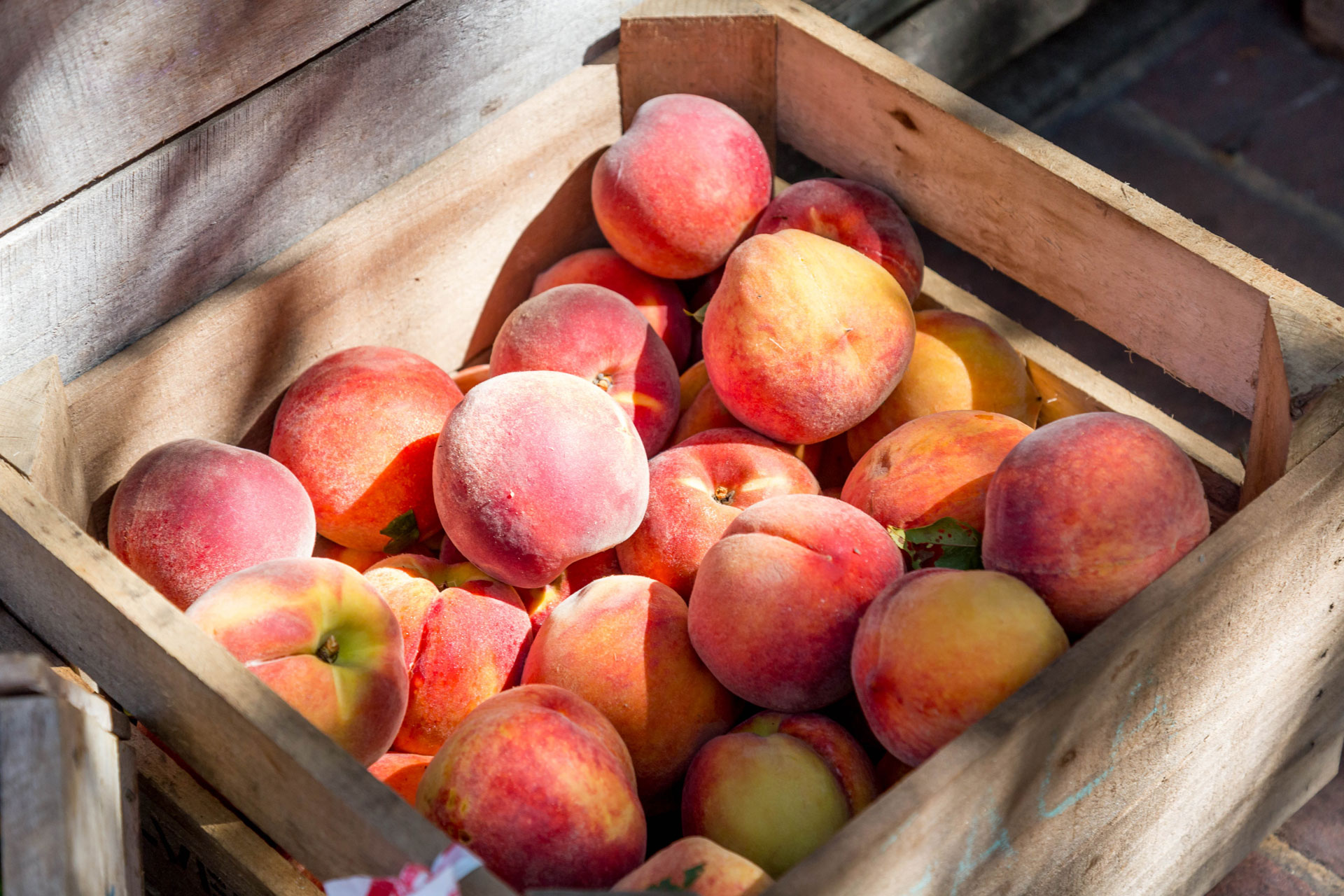 Ingredient of the Week: Peaches
---
The opportunities are endless with this juicy summer fruit
Each week plant-based cook Bettina Campolucci Bordi, founder of Bettina's Kitchen, gives us the lowdown on a particular seasonal fruit, vegetable or ingredient, offering cooking tips and a recipe. This week it's peaches.
Ingredient of the Week: Peaches
History
Peaches are one of my favourite fruits. A member of the rose family, the peach is closely related to the almond, and is a sweet and fragrant stone fruit that can be used in a variety of culinary ways. Aside from the obvious jams, smoothies, cakes, tarts, pies and cobblers, peaches also lend themselves to savoury dishes such as salads, flatbreads and soups, and they make an excellent barbecue accompaniment.
Although its botanical name – which literally translates as Persian plum – suggests the peach originated from Persia (Iran), genetic research indicates that it actually comes from the Far East. Did you know that peaches have been cultivated in China for thousands of years? There's evidence suggesting that domestication of the fruit occurred as early as 6000 BC in Zhejiang Province. From China, the fruit travelled west via the Silk Route to Persia where it was widely cultivated, earning it the botanical name Prunus persica. There are over 2000 varieties of peaches in the world.
Alexander the Great is credited with introducing the fruit to Europe after he conquered Persia, although peaches weren't widely known in England until the 17th century – and even then they were regarded as a rare treat. I still think that biting into a good one is.
How To Store Peaches
Store your peaches on the counter at room temperature until they are ripe. They should then be stored in the fridge, where they will keep for up to five days – that is, if you can keep your hands off of them. If you have too many, prevent food waste by freezing them and using them in smoothies or cakes. Simply cut your peaches in half and destone them. Then lay them on a baking tray and stick in the freezer for a few hours until they're frozen through. Transfer the peach wedges to a bag and freeze until ready to use. You can keep them for up to four to six months in the freezer.
I am really excited to share one of my favourite recipes with you. This recipe is adapted from my most recent cookbook Celebrate, which has recipes for every occasion. You can make each part of the recipe ahead of time and simply put it all together just before serving – this way it keeps everything as fresh as possible. With spring just around the corner, this is a perfect summer dessert that will brighten your table, and your mood.
Recipe: Almond Galette with Cream and Peaches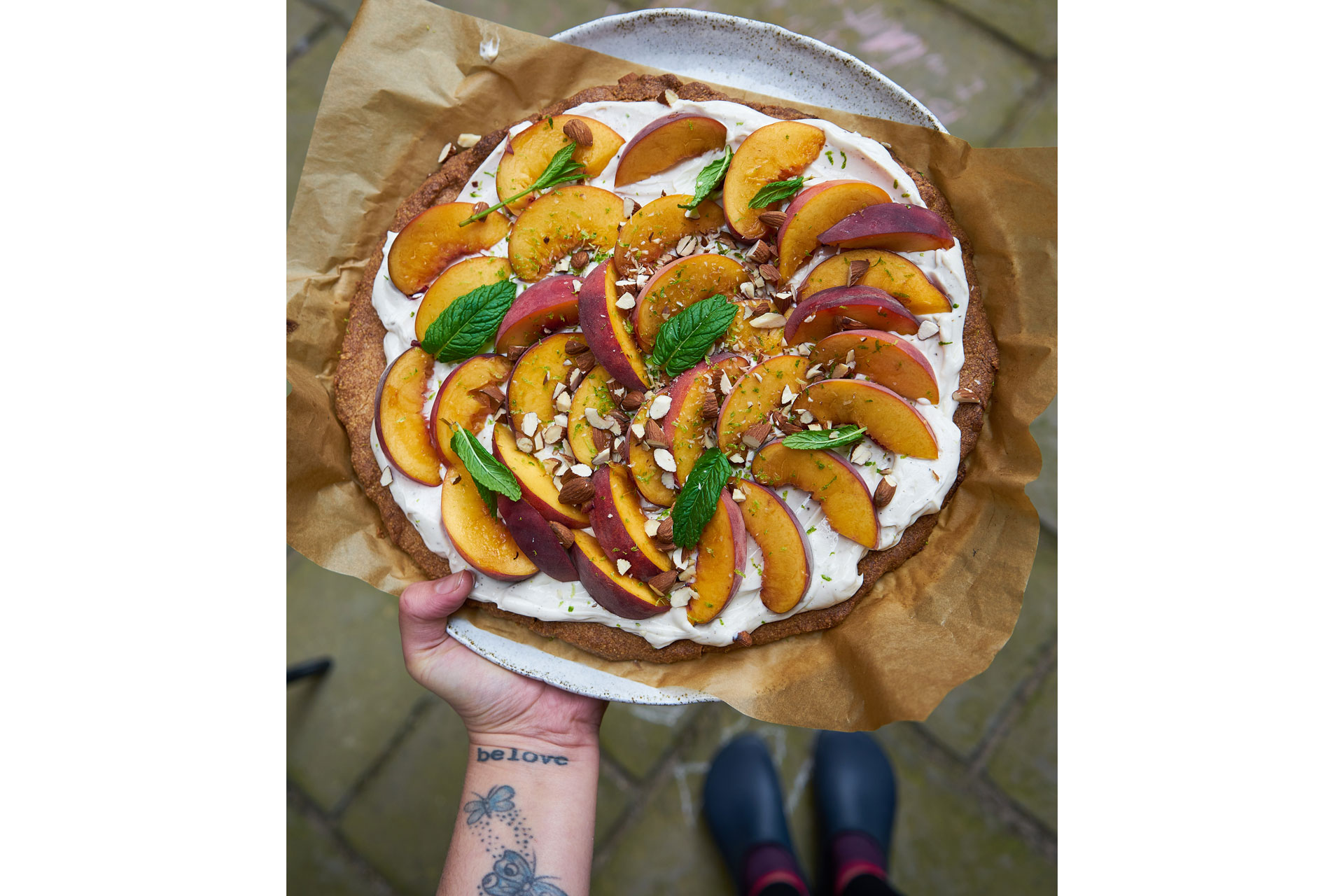 Servings: 4 – 6
Ingredients:
For the almond galette:
240g almond flour
240g white gluten-free flour
120g coconut sugar
Zest of 2 limes
240ml grapeseed oil (or any flavourless oil)
For the topping:
400g oat-based crème fraîche, coconut whipped cream or plant yoghurt
Zest of 2 limes
2 vanilla pod (bean), split and the seeds scraped out, or 2 tsp vanilla paste or extract
2 tablespoon maple syrup
4 peaches, stone removed
Handful of almonds, chopped
Handful of mint leaves
Zest of 1 lime
Method:
Preheat the oven to 180°C. Line a large baking tray with baking parchment.
Mix the ingredients for the galette together in a food processor to combine well until it has a sticky consistency. Place the dough between two pieces of greaseproof (waxed) paper and roll out until it is 1cm thick and about 20–25cm in diameter.
Remove the top layer of greaseproof paper from the galette and place on an oven tray. Bake in the oven for 15 minutes until golden. Remove from the oven and leave to cool. When cool, place the greaseproof paper on a serving plate and cut around it so as not to break the pastry.
Mix all of the topping ingredients (except the peaches) in a bowl and then spread the mixture over the cooled galette.
Thinly slice the peaches into half-moons and arrange over the topping, then scatter with almonds, mint leaves and a sprinkle of lime zest.
Tip: Put the components of this dish together just before serving to keep it nice and fresh.
Main image: Getty Images
MORE INGREDIENT OF THE WEEK: