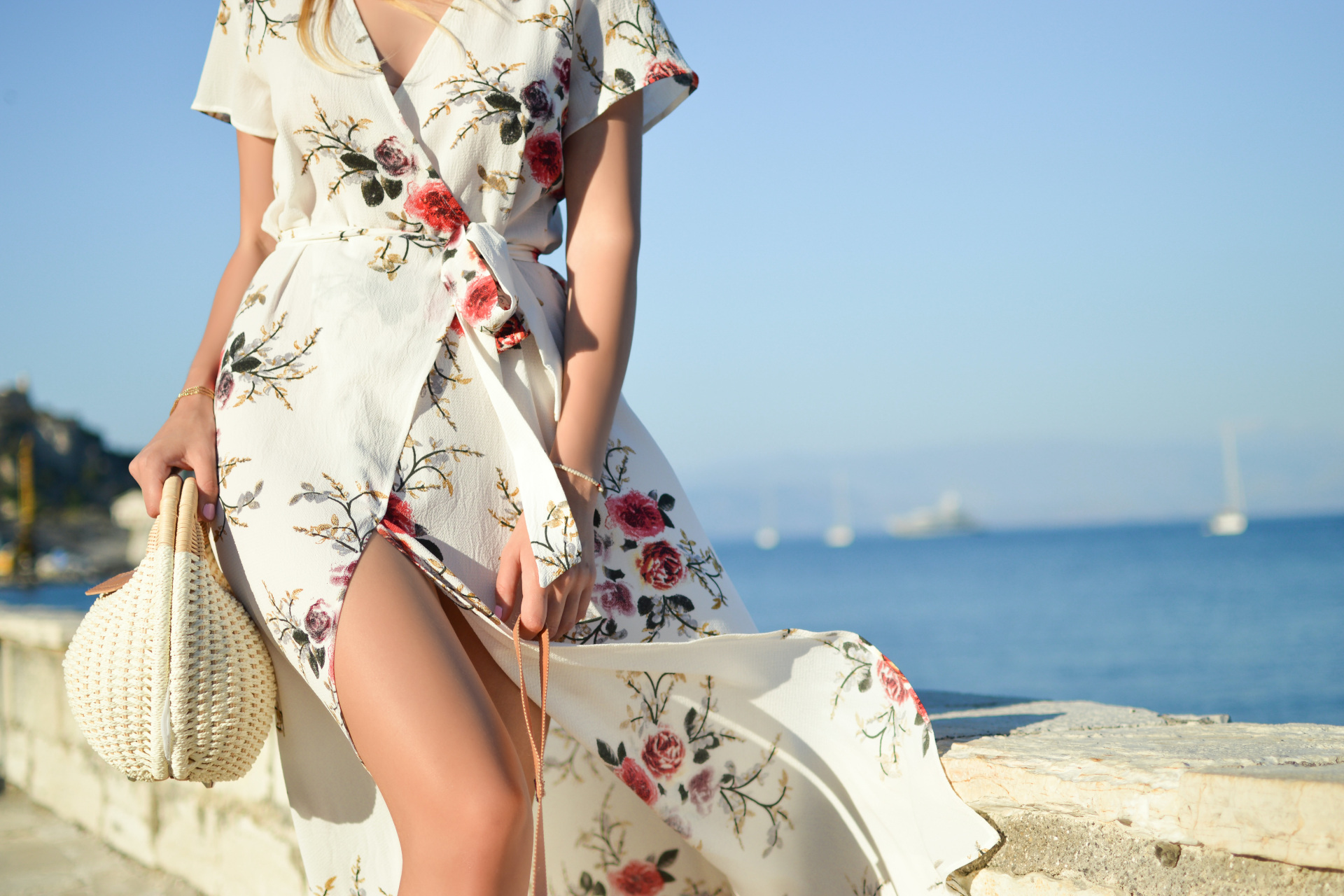 The Best Luxury Resale Sites and Rental Services
---
A Chanel co-ord at a fraction of the retail price? Don't mind if we do...
Wondering how you can reduce your carbon footprint in fashion – but stay stylish? Read on for the luxury resale sites and rental services taking vintage shopping to new heights. 
The C&TH Sustainable Fashion Hub
Fast fashion is playing a seminal role in destroying our planet, polluting our oceans and generating a staggering 1.2 billion tonnes of greenhouse gases a year (more than all international flights). The sartorial shame is real. While reconciling luxury fashion with sustainability is a tough gig in itself, the dizzying rise of rental and resale sites, paired with a fine vintage renaissance is certainly a step in the right direction.
With social media placing an expiry date on luxury pieces and the likes of Airbnb, Netflix and Uber opening the sharing and subscription economy floodgates, British consumers have never been more open to leasing high end fashion. As long as dry cleaning and delivery impact is scrutinised, rental fashion reduces waste, improves the life-span of clothing and reduces custodians' fabric footprint with a more circular economy. If a monthly cocktail of Simone Rocha dresses, Fendi ski suits and Carven coats sounds appealing, consider signing on to one of the resale sites or rental services below. Just steer clear of the red wine…
Luxury Resale Sites & Rental Services
Rotaro
Luxury rental platform Rotaro routinely teams with big names and brands to offer customers a curated selection of rentable clothing items and accessories. Previous collaborators include RIXO, Rejina Pyo, Alexa Chung and Max Mara, and new names are added to its impressive roster regularly. rotaro.co.uk
Reflaunt x Harvey Nichols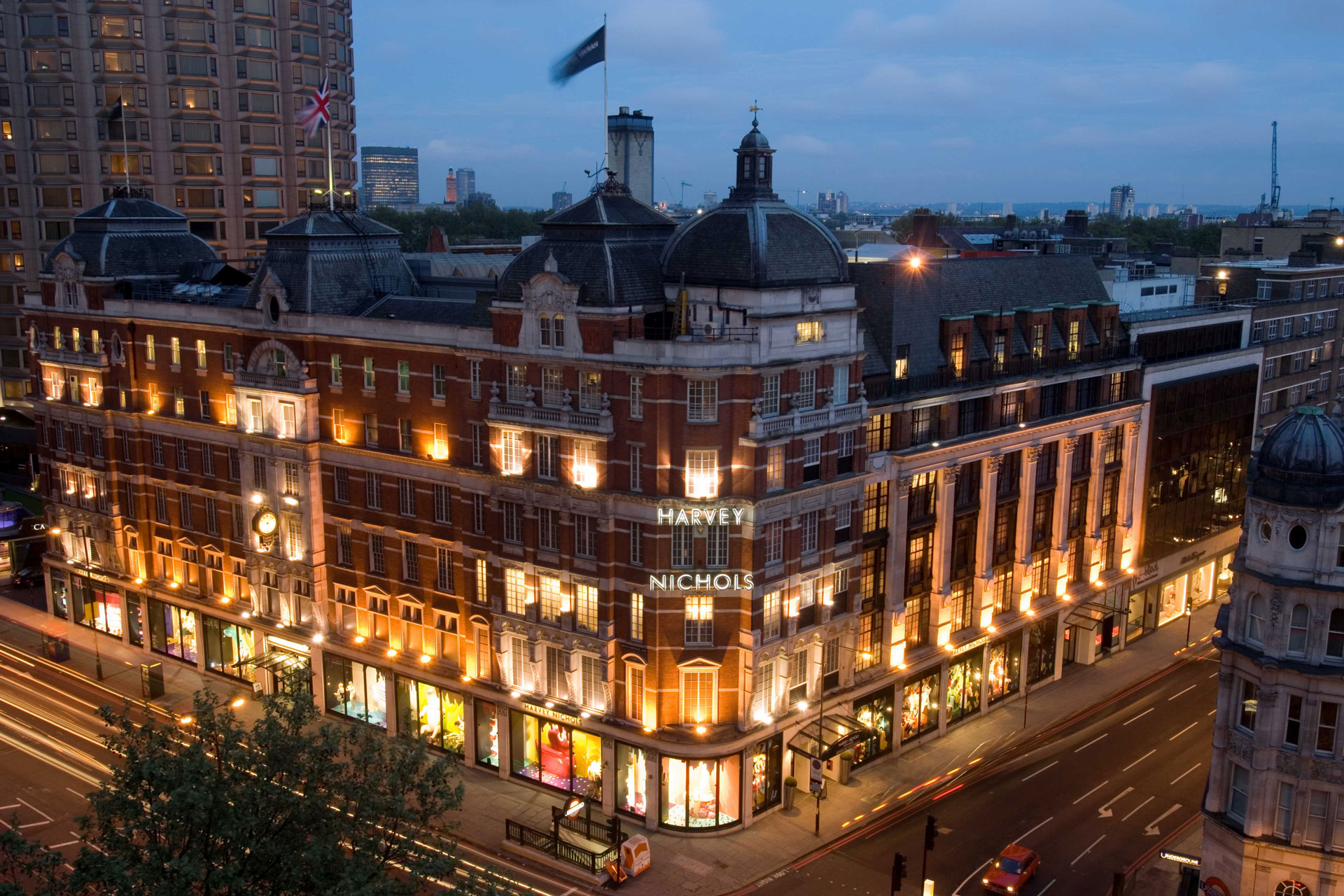 Resale service Reflaunt connects luxury brands with its second-hand community, which includes 50 million shoppers across 25 international marketplaces. The company has recently joined forces with Harvey Nichols, allowing customers to resell any piece in their wardrobe – and earn back up to 80 per cent of the original price. To get involved, all you need to do is drop the item off in-store – or have it picked up from your home, if you live in London – and the rest is taken care of. harveynichols.reflaunt.com
Harrods
One of the world's most famous luxury department stores, Harrods, is launching its own fashion rental service. Running in partnership with MY WARDROBE HQ – the company that supplied Carrie Johnson's wedding dress – the range will focus on 'elevated event-wear', including statement pieces by designers like Huishan Zhang, Rotate, Roksanda and Zimmermann. You'll be able to rent items for between four and 14 days. harrods.com
Bundlee
Parents have a whole other sustainability dilemma to deal with: growing children. That's why Eve Kekeh founded Bundlee, a kidswear clothing rental platform which allows mums and dads to sign up to a subscription platform. Choose the plan that fits your family, and conscious clothes for little ones will be delivered to your door when you need them. When your child outgrows an item, simply swap it for the next size up; the smaller size will then be cleaned and passed on to another family. All clothes are made in the UK from soft Oeko-Tex cotton, and in the personalised subscription you can choose premium pieces to rent from brands like MORI and Little Riley Studio. bundle.co.uk
EKC Luxury

EKC Luxury provides more than just pre-loved designer handbags and accessories, but repairs, customisation, and an array of shopping events too. From Chanel flap bags to a covetable Hermès Birkin, the designer resale site ensures that every luxury item is truly authentic, stating that 'Creating a wearable art collection through rare pre-owned treasures is the new form of sustainable luxury.' We couldn't agree more. ekcluxury.com
Lymited
Branded as 'a modern approach to buying, selling and sharing in luxury,' Lymited's debut collection of unique, collectible items ranges from eccentric furnishings to limited-edition sneakers, spectacular art works and more – you'll be spoilt for choice. If the expansive edit is a little overwhelming, the brand's in-house industry experts are on hand to help you locate what you're looking for… or perhaps introduce you to something you never knew you needed. lymited.com
By Rotation

Eshita Kabra-Davies founded this fashion rental app following a trip to her native home, Rajasthan in India, where the devastating impact of textile waste became more evident than ever. Making luxury items more affordable, accessible and naturally kinder to the planet, the platform is ideal for when you're in need of a one-off occasion dress, or that designer bag you've always wanted (but aren't quite ready to splash out on). The brand has recently partnered with boutique hotel collection Page 8 to offer hotel guests a unique rental concierge service this summer, where a series of luxury pre-loved items will be available to rent (delivered to the room in under 90 minutes or less) – so you can be sure to pack light. byrotation.com
Talking About Rental Revolution with Eshita Kabra-Davies
Sellier Knightsbridge
If it's a genuine Hermes handbag that you're after, Sellier Knightsbridge is where you'll find your perfect match. The luxury resale store is "the UK's most trusted reseller of authentic Hermes bags", but you'll also find a range of equally-as-desirable designer clothes, shoes and accessories, along with a small collection of menswear. For those who prefer to do their pre-loved shopping in person (post-Covid of course), the brand's consignment store at Cheval Place in Knightsbridge – which has delighted customers since the 1970s– is a must-visit. sellierknightsbridge.com
Endless Wardrobe
The first 'three-way shop' platform (rent, buy new and purchase pre-loved), Endless Wardrobe is on a mission to transform the way we consume fashion into a more sustainable and circular concept. Founded by two friends, Hannah and Rosie – who have spent many years sharing clothes – the platform features a range of coveted brands, from Free People to Alexa Chung, Whistles and De La Vali (where you can rent a luxe frisco mini dress for four days for around £45), with the aim of making designer and luxury fashion more affordable, and more importantly, eco-friendly. endlesswardrobe.com
Resellfridges
Selfridges continues to lead from the front when it comes to disrupting traditional retail. As well as working with The Restory (for repairing your old Chanel) and Hurr Collective (for dress rental), they've now launched a pre-loved fashion section both in store in The Corner Shop and online. Soon, you'll be able to sell your vintage pieces with them too. selfridges.com
Apps To Help You Live More Sustainably
Rent the Runway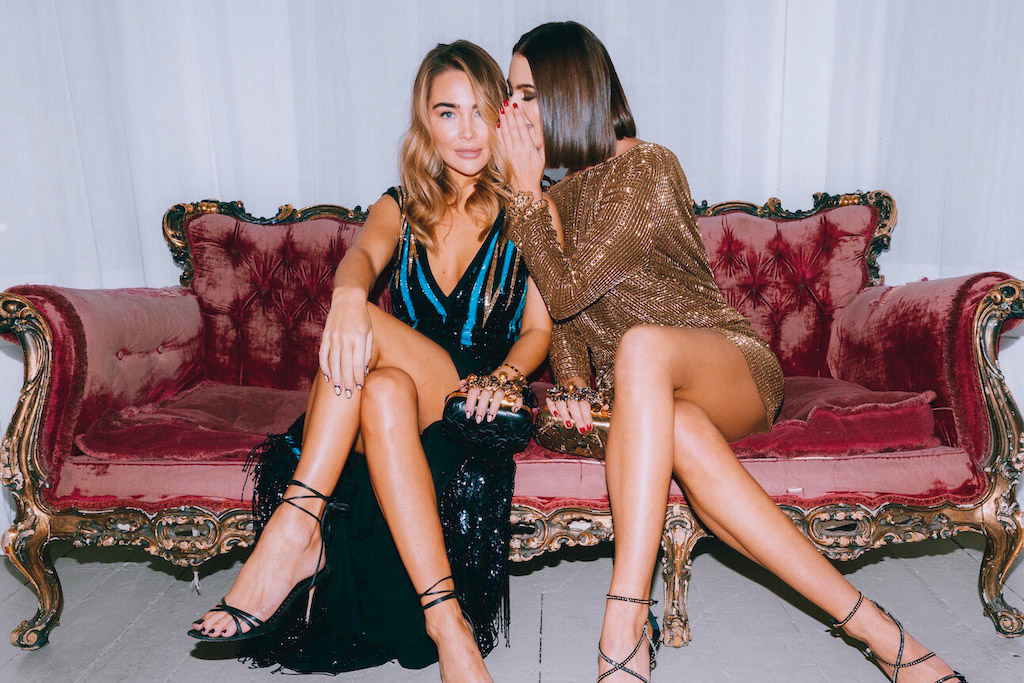 Lauded for leading the charge on the rental fashion movement, Rent the Runway was founded in 2009 by Jennifer Hyman and Jennifer Fleiss in the US and began by offering women low rental fees for designer dresses. The company recently graduated to two 'membership' models, now with over 550 designer partners offering pieces for a plethora of occasions and even exclusive capsule collections for Rent the Runway. renttherunway.com
Front Row
Shika Bodani launched Front Row, London's first luxury designer rental service, in 2016, spotting a gap in the market for a high-end fashion wardrobe on rotation. Bodani saw the fashion influencer culture as key to peddling the sartorial shift and endeavoured to bring America's rental success stories to the UK, enabling clients instant access to the hottest designers and trends for a fraction of the retail price. frontrow.uk.com
Resale Sites: How to Buy a Vintage Wedding Dress
Girl Meets Dress
With a pay-as-you-go or membership option, Girl Meets Dress is Europe's leading fashion rental site on a mission to build a 'wardrobe in the cloud'. Founding the company in 2009, Anna Bance pins the new borrowing norm on the rise of the experience economy where trips are prioritised over expensive designer dresses, along with an increasing consumer conscience and responsible shopping mentality. Ideal for occasion wear from weddings to the races, shoppers can order dresses as far in advance as they wish – there is no limit. girlmeetsdress.com
10 Must-Watch Documentaries about Sustainability
Wear the Walk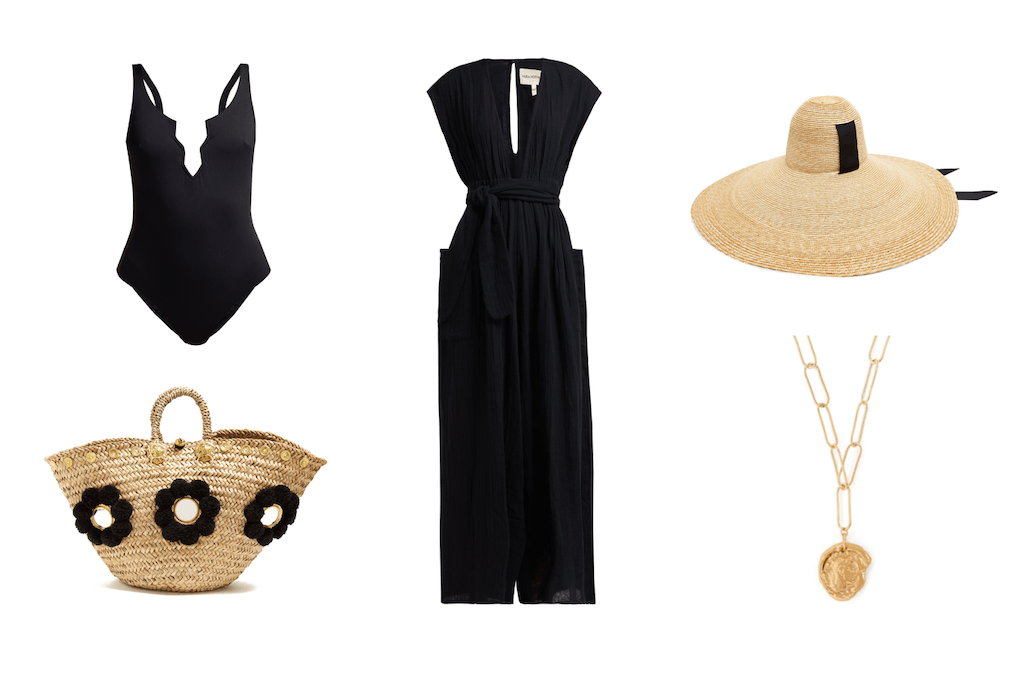 Founded in 2017 by Zoe Partridge, Wear the Walk is a rental platform enabling women to access emerging designers that have sustainability at their core, from the materials to the manufactures used. They have a two-pronged approach to sustainability, reaching the 'I have nothing to wear' consumer while scrutinising the production process of designers. Check them out on Facebook.
Voyager Club
Voyager Club is a luxury travel service and styling facility for the jet setting, time-poor glitterati after a seamless, stylish trip. Co-founders, Sophie Caulcutt and Ashley Barras' recently extended their services into more sustainable territory, curating optimised eco-friendly and sustainable travel across their wardrobe and accommodation. voyagerclub.co
My Wardrobe HQ
Launched in 2019, this fashion-pack favourite quickly amassed an impressive catalogue of top designer brands, from heavyweights like Chanel, Gucci and Prada to newer labels like Rixo, Dodo Bar Or and Ganni. Members can enjoy an extended rental period – up to 14 days – and, if they find themselves falling for the piece, buy it outright. Surely the chicest way to 'try before you buy'. mywardrobehq.com
Cudoni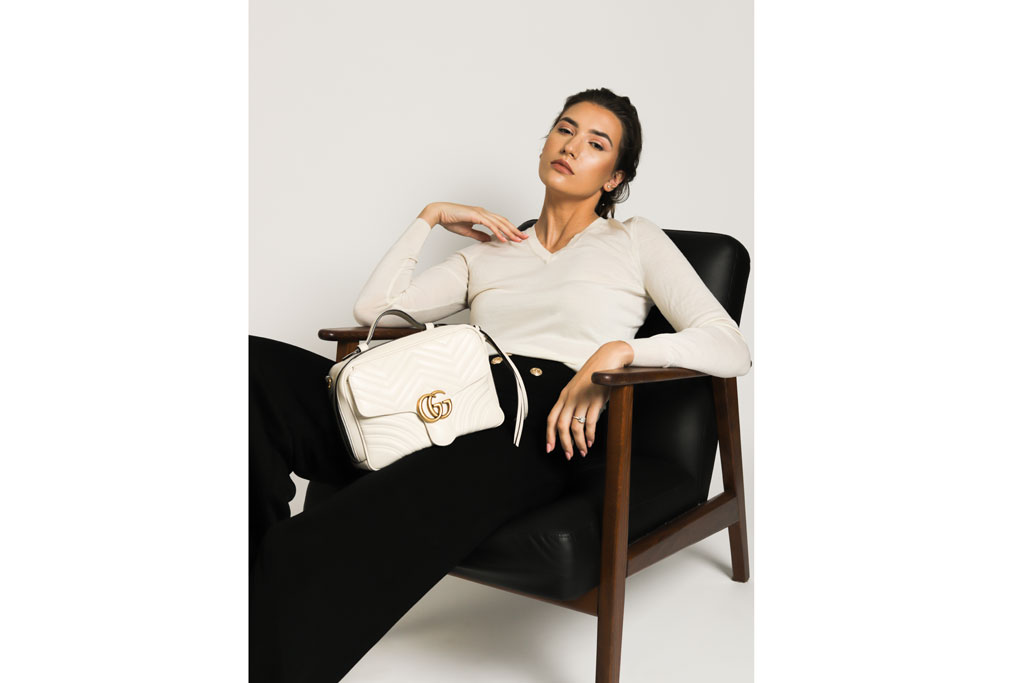 One of the newer resale sites to hit the second-hand luxury market is Cudoni, launched in 2017 after founder James Harford-Tyrer noticed a gap in the market for premium fashion resale sites. Targeted at stylish individuals with overflowing wardrobes, the seamless service couldn't be easier to use: after listing an item you'd like to sell, Cudoni arrange a free pick-up and packaging service at your chosen time. There's plenty for those looking to buy too: both women's and men's clothes, accessories, shoes, watches and jewellery. 'Simple, trustworthy, and sustainable – we offer a first-class service that takes care of every detail in selling whilst supporting the global shift towards a greener future; aiming to be a truly effortless service that makes luxury fashion circular,' says James. cudoni.com
Daisy Lowe On Sustainable Fashion & Her New Campaign With Cudoni
Vestiaire Collective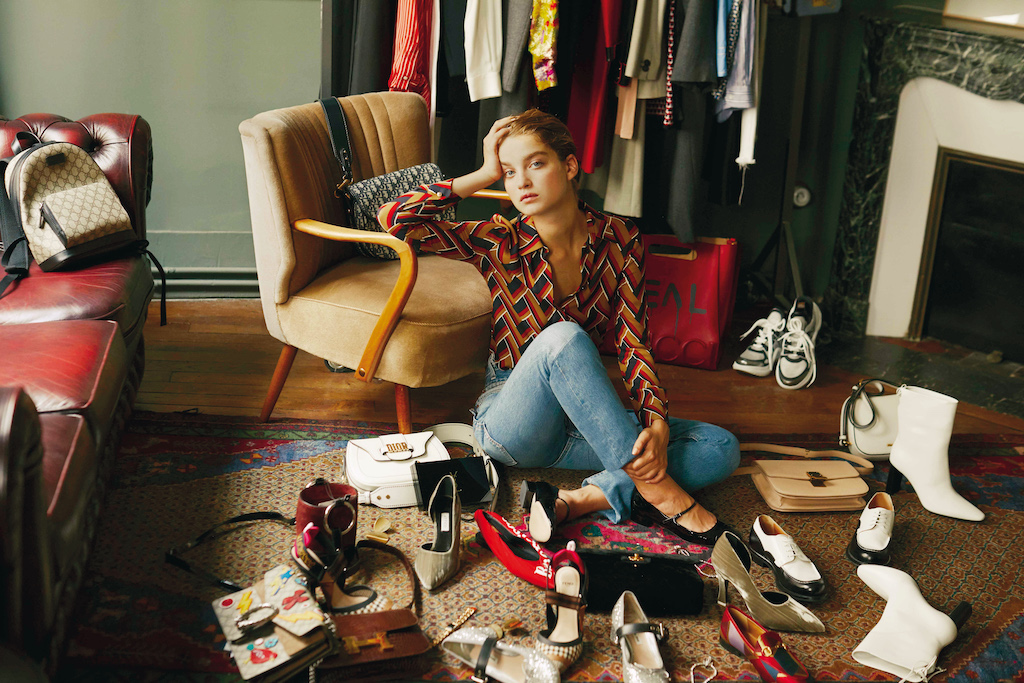 Parisian powerhouse, Vestiaire Collective, defied the naysayers and brought vintage or rather 'preloved' into the tech sphere, operating as a high-end ebay with a rigorous quality control. Founded in Paris in 2009, Vestiaire is now the leading online marketplace for buying and selling pre-owned designer clothing and accessories. vestairecollective.com
HEWI London
HEWI (Hardly Ever Worn It) is one of the ultimate luxury resale sites, bursting at the seams with barely-worn Dolce & Gabbana dresses to brand new (just the wrong colour for its custodian) Dior jackets et al. hardlyeverwornit.com
SKIIM Paris
SKIIM Paris is known for their attention to craftsmanship and zero waste, producing high-end womenswear that is both contemporary and made to last. But what some people may not realise is that SKIIM Paris also offers a rental service, Rent The Look, which allows users access to pieces from the brand's archives. Designer delivered right to your door. skiim-paris.com
Featured image: Tamara Bellis, Unsplash
DISCOVER MORE
Sustainable Fashion Brands / Sustainable Jewellery Brands