Emma Sims-Hilditch on Creating Synergy Between Country & Town Homes
Interior designer Emma Sims-Hilditch shares her tips...
Emma Sims-Hilditch explains her key touches and tips, design process and USP when designing a country or town home. 
How would you describe your interior design style?
Creating areas of light and shade is one of the most important principles in our designs (at Sims Hilditch) – we use a lot of fresh colours, natural materials like wood, glass, stone, linen and wool paired with a hint of metallic and mirror to reflect light. Natural materials have an innate sense of quality and a richness that adds layers of texture and character to a room. I like to think that good design can truly transform lives and a successful project is all about making our client's home work for their lifestyle.
What's your USP?
We are a London-class design studio that just so happens to be located in the rolling Cotswold countryside. I love the fact that when people walk in here, they are visibly amazed to find this in the country – they can see immediately the calibre of design we offer. We then aim to wow them with our service.
How does your process/style differ for country or city properties?
For me, interior design whether it be to for the city or country, is not just about making somewhere look pretty – it is in fact a very thoughtful business. Lighting, texture, colour, the flow from room to room – all of this has to come together. We are always asking ourselves why we are doing something.
The "why" comes well before the "what" in terms of the decisions we make. After all, why should someone in a city apartment have less comfort than someone with a beautiful country house?
How can people maintain their interiors style between two properties when one is in the country, and the other is in town? How do you maintain synergy between the properties?
Design has to be intelligent. My job is to second-guess absolutely everything the client could ever want. With any project, I have three principles for which I live by: preserve the architecture's authenticity, enhance the location and reflect the clients' lifestyle.
Is it important to have common themes in your country and town properties?
I think it depends on the individual client. We have worked for a few families in both their city and country properties and generally, there is an overriding aesthetic that runs through both. For the city, we tend to work on a slightly more contemporary décor. Instead of rustic country furniture and brown antiques, we might incorporate mid-century pieces and crisper tailored upholstery.
What are the advantages and disadvantages on having a continuous scheme in both your properties or having completely different styles in each?
I think it is helpful to have certain design principals that are followed to make life easier and more practical. In our kitchen designs, we always try to incorporate a power charging drawer to keep all of the household devices in. If you are fortunate enough to own more than one property, it is likely that each home has different functions. One might be a holiday house or a weekend retreat which may need different storage solutions, a larger boot room if it is in the country versus a London home which might need to utilise the space for a laundry or home study.
Homes generally reflect their owners' personalities so it is lovely to have a common thread between them but I also think it is fun for each home to have individuality and character.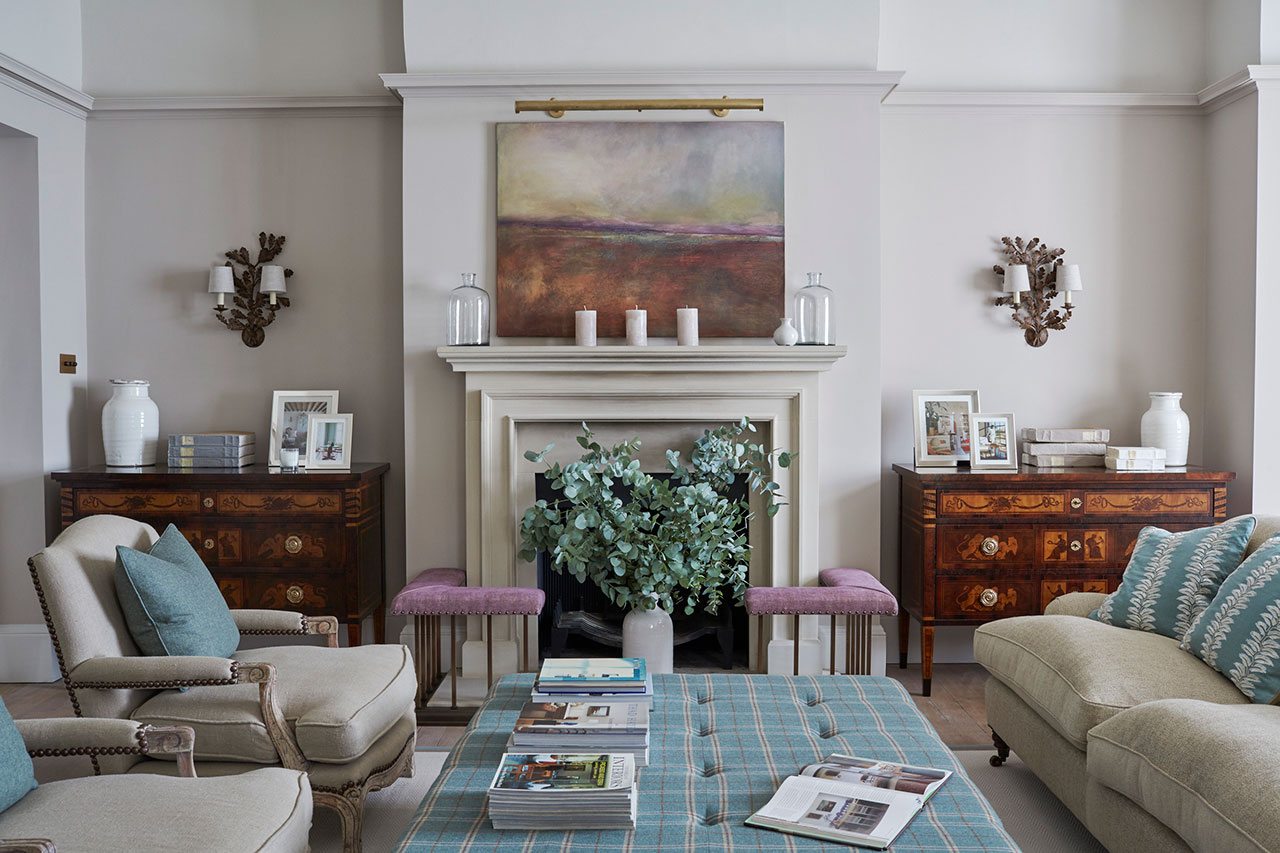 What distinguishing touches would you use to separate a common theme in the country and town houses of a client?
We would consider changing the fabrics so that in the country the curtain and upholstery have a soft relaxed look maybe using wools versus velvets in the city. Bathroom design can create a very different mood depending on the brassware and tiles. In the country, we tend to use the Lefroy Brooks classic range whereas, in the city, we often use Dornbracht Tara. Carrara Marble is a hard finish that works well in both schemes and has a timeless feel which can be modern or traditional.
Should a country home always have country details and town house always a more functional, city feel? Or can you play with these norms?
We are currently working on a townhouse in London where we are using rustic timber floor boards and hand blocked botanical wallpaper which can often be associated with a country look. I love playing with pattern and texture and turning the norm on its head. In our design studio, we have used a contemporary kitchen to great effect. The simplicity of the cabinetry allows the architecture of the barn to stand out and juxtapose beautifully in a country home.
Do you have a signature that you always include in your interior design?
I think people would recognize our style as calm, relaxing and elegant. This is partially due to our paint palette, colour schemes and our furnishings. I love the Farrow & Ball shade Pigeon and Neptune's Moss – both are stunning blue/grey colours. De Le Cuona and GP&J Baker prints are always favourites and for lighting, we often choose Vaughan, whose collections complement our interiors.
What is the best piece of furniture or home accessory you've ever purchased/ found?
It would have to be timeless antique oak dresser from Lorfords. I often visit Lorfords with my design team when sourcing pieces for clients. They have a beautiful showroom not too far from our studio in Tetbury.
Do you admire anyone else's interior style?
Rose Uniacke – her designs are elegant, understated and refined.
Sleek and modern, or comfy and cosy?
Comfy and cosy.
READ MORE:
---